I also have Chrome which says Not Secure next to the URL line. Edge shows nothing. Firefox is fine. I haven't allowed Internet Explorer on any of my computers since about WIN98SE, it was terrible.
2013: Google Chrome has been the most popular browser in the United States since December 2013. In other countries, Google Chrome has also taken up a dominating role. In the European browser market, Chrome and Firefox have established strong market positions with about 41.5 and 25 percent, respectively.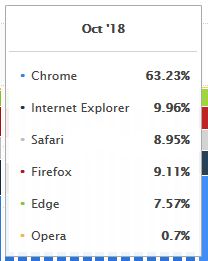 Windows 10 Professional if that makes any difference.
Some day David you are going to run into a totally dead board because the software is so out of date. I know I've asked before, it's your baby, but honest there is much better, more functional, FREE forum software. You wouldn't have to keep making archives. Just keep this old data in it's own spot as archives and lets move into the 21st century?

Also all the forums could be tied together, so all of us would land in one spot for all subjects and casino collectibles. You can have all the websites redirect to the single host, all you pay for is the domain name registration.
Yes I recognize that people are resistant to change, it's a dark tunnel spooky of unknown, if you had a vote, the answer would still be, this is fine don't change. LOL
Just my annual suggestion, now I'll shut up until 2020. Yes, I appreciate that you and all the people who help, keep this BB up and running, along with all the others. The Chip Guide is always a fantastic resource.