You may or may not be aware of the history of the Sal Sagev that Gene Trimble wrote an article about years ago:
http://www.marlowcasinochips.com/links/genetrimble/salsagev/salsagev.htm
The family allowed me to purchase a total of 225 chips (emptying my bank account in the process), as detailed below, leaving them an even split of the remainder to keep, together with the wheel, in the family with a long term view to it going to a museum.
There were in fact a further 9 of the brown chips discovered in the tarpaulin (not seen in Gene's photograph) for a total of 14. I was allowed to get all of those.
There are also some red chips, which the lady informs me, per Abe's notes, were used as $5 chips for the blackjack game only, hence she kept them apart from the roulette table when Gene saw it.
Prior to this, only a few yellow and a couple of white chips existed in collections.
The breakdown of the 225 chips and their prices is as follows.
Yellow – 64 chips – $150
White – 42 chips – $200
Green – 30 chips – $250
Blue – 28 chips – $250
Brown – 14 chips – $350 (no longer available on its own)
Red – 47 chips – $200
(Set of 6 – $1,000)
Prices of the few yellow and white examples that have been previously sold average almost $600 each.
I have now sold over half of these chips.
I now have only two complete sets available. The brown chip is not available on its own.
The extra yellow and white chips I have remaining do show slight wear albeit they are better than the previously known examples. The other 4 colors are all almost new to new.
Email me at david.spragg@marlowcasinochips@com if you are interested in these or go to my website:
http://www.marlowcasinochips.com/obsolete/salsagev.htm
.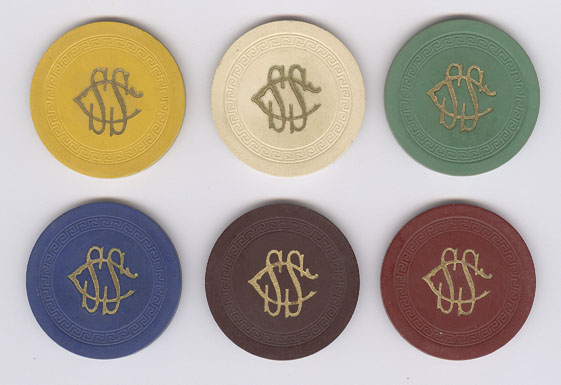 .
.